Collective Identities
On October 25, 2019, we held an event in collaboration with artist collective Studio Baustelle at their space in Neukölln, Berlin to coincide with the launch of our second issue. In order to initiate a space of exchange within the frame of the issue's thematic focus – branding the art world – we invited Studio Baustelle and the nomadic curatorial collective and non-profit organization anorak to participate in a conversation, moderated by curator Vincent Schier, under the heading 'Collective Identities'.
We thought it pertinent to delve into the topic of collectives in relation to such aspects of branding as authorship, identity and communication. In the current art landscape, the collective is a particularly prevalent form of working and collaborating. In interviews that have appeared in our current issue, as well as our blick section, we have had the opportunity to discuss the topic with collectives Louise Guerra Archive and Lucie Fontaine – both adopt a single name under which various art workers collectively operate, initiating projects and producing exhibitions and events.
Faced with neoliberal notions of production and productivity – marked by competition, consumption and individualization – in tandem with the increasing lack of affordable space and (paid) opportunities, collectives can find alternative modes for building culture and community, and shift ideas of labor and interrelation towards collaboration and interdependency.
Some of these issues, as well as the contrasting ways in which collectives conceptualize and organize themselves, were highlighted in the conversation between anorak and Studio Baustelle. For those who missed the event – or would like to return to the discussion – here are some excerpts, highlights and insights from the evening: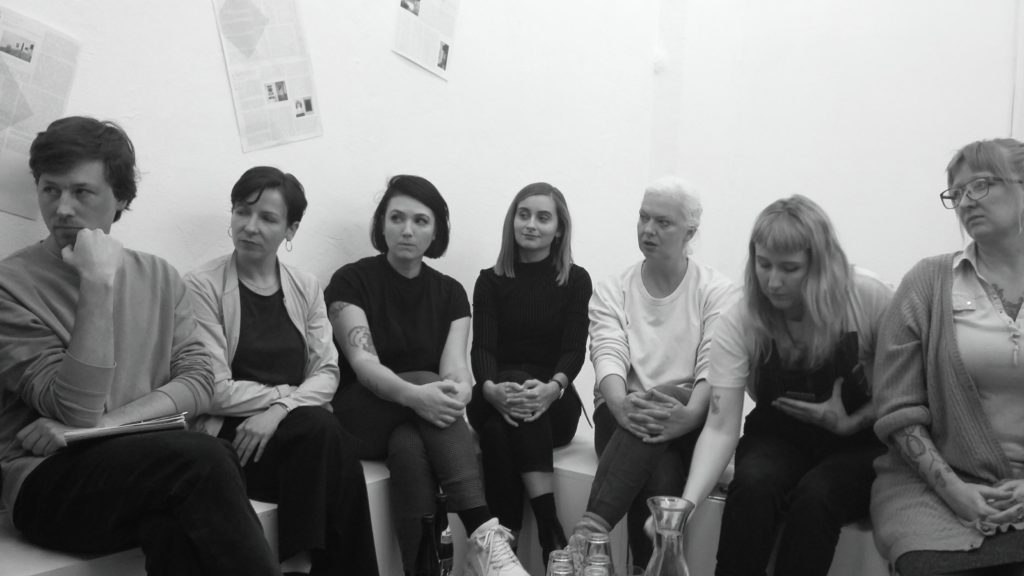 ---
The discussion began by focusing on the question of working together collectively itself. Why form a collective? What was it that sparked the initial conversation and/or the decision?
---
As a Kunstverein, anorak's process of organization and management comes with the bureaucratic concerns of running a legal institution. They talked a bit about how the Kunstverein was initiated and some of the twists, turns and developments that led to the collective in its current constellation:
---
Curator Vincent Schier brought up the label of 'collective' in relation to Studio Baustelle – which operates as an artist-run studio and project with five artist members. As Schier pointed out, Studio Baustelle doesn't necessarily produce work together as a collective: each artist has their own practice. Nonetheless, they chose to give themselves a name and a collective identity. Studio Baustelle discussed this decision and how they structure themselves in terms of being a collective.
Then, turning the conversation to anorak, the question of how roles are divided within the legal body of Anorak e.V. was addressed. The institutional structure consists of a board, artistic directors and members. But it's not a fixed, rigid system; the democratic process of the Kunstverein means that the founding members can be voted out at any time by the members' assembly – a potential result that the organizers find necessary to the expansion and development of the artistic program and the organization itself:
Later on in the conversation, anorak elaborated on the decision to implement a structure from which they could be voted out by members, leaving the organization to someone else.
Alongside other concerns, inherent to this idea is the freedom to move on – the ability to start something new:
---
As a smaller group, Studio Baustelle nonetheless experiences the impact of change as members come and go. First, a couple of newer members spoke about their experiences coming into an existing structure and finding a place to fit in:
And then collective member Janin Walter, who is the longest-term current member, discussed the process of change and adapting when new members join and others leave. A process that she describes as bringing 'fresh energy', which in turn refreshes her own perspective, as well:
For both collectives, being open to change, bringing in new perspectives and not remaining a static, stagnant entity are welcome and important aspects of working collectively.
---
As a nomadic collective without its own space and spread over different cities, anorak spoke on how they negotiate these challenges and the opportunities that arise from them.
---
Schier pointed out the focus on individual identity in art world success and the competitiveness of the art market, asking whether the collectives feel it is more of an advantage or disadvantage to work collectively.
Studio Baustelle elaborated on the advantages of being a group, as opposed to an individual – in terms of building your network and finding opportunities. They highlighted the fact that the collective can function and be seen as an organization, which lends more credibility and trust and in turn leads to being taken more seriously. The sharing of a space and a history can give both the individual members and the group more power:
---
What is your collective practice? Is there one?
Here, the focus comes to the idea of sharing – knowledge, resources, experience. Anorak pointed out the necessity of coming together and organizing as a measure against art world exploitation.
And for their part, Studio Baustelle identified their collective practice as one of 'non-leadership'. This springs from the idea that collectives have to find ways of working together that are not based on traditional hierarchical structures and modes of productivity.
---
As an endnote, the discussion veered towards the continual process of finding alternative ways of working together – ones that are not so constrained by concerns of space, as a collective continues to grow and develop: in the case of Studio Baustelle, for example.
And anorak talked about their approach, in which they seek to expand the idea of a Kunstverein.
Sound editing by Peter Wagner